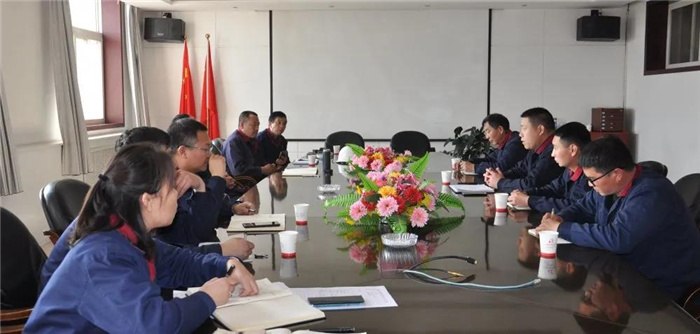 At 14:00 on March 10, 2021, Mr.Feng Huaizhi, vice president of production of Henan Yulong Group, Tengsheng Technology Co., Ltd., and his party went to Anyang Longteng Heat Treatment Materials Co., Ltd. for production management exchanges. Anyang Longteng participated in the exchange meeting: General Manager Mr. Feng Bo, Deputy General Manager Mr. Fu Guangqing, Chief Financial Officer Mr. Yang Zhuqing, and heads of production workshops and enterprise management offices.
At the meeting, Mr. Feng Huaizhi, vice president of Tengsheng Technology, gave an introduction on production site management, quality system operation, and information construction. The workshop directors of Anyang Longteng shared their experience and results in workshop management and quality control. Then, Mr. Fu Guangqing, deputy general manager of Anyang Longteng, gave a further explanation on the six elements of quality management and the construction of quality system. Afterwards, the participants of the two parties exchanged and discussed issues such as the introduction and implementation of the quality system, and the implementation of informatization standards.
Mr. Feng Bo, general manager of Anyang Longteng, emphasized that whether it is production management, quality control or information construction, it is a long-term and continuous work that cannot be accomplished overnight. By strengthening the production and management experience sharing of brother units within the group, we will carry out benchmarking work with advanced companies in the same industry, learn from, digest, absorb, and summarize, improve corporate management and innovation capabilities, and promote high-quality development of the group.
---
Post time: Mar-31-2021