Stud Bolt, grade 12.9
Product Detail
Product Tags
Contact us for 3rd party Fatigue Test certificates. [email protected]
Fatigue tests: M56 M48 M42 M39 stud bolt
Grade 12.9 stud Dimension: according to customer's drawing.
Grade 12.9 stud Thread: Metric, UNC
Grade 12.9 stud Chemical composition: according to ISO898-1 requirements.
Grade 12.9 stud Mechanical and physical properties: Table 3, ISO 898-1
Tensile strength, Rm: min 1220MPa

Stress at 0.2% non-proportional elongation, Rp0.2: 1080 MPa

Percentage elongation after fracture for machined test pieces, A: min 8%

Percentage reduction of area after fracture for machined test pieces, Z: min 44%

Vickers hardness: 385-435 HV

Brinell hardness: 414-366 HBW

Rockwell hardness: 39-44HRC

Surface hardness: max 435HV

Impact strength, Kv, 20 ℃, 0℃,-20℃,-40℃,-100℃: 27J Customerized

Surface integrity: ISO 6157-1
The stud bolts that produced by Anyang Longteng have high performance, high tensile strength. Impact energy of grade 12.9 bolts at -40℃ can be 27J, which means quite good performance in low temperature. So that the studs can be used in cold weather oil platform. Highest tensile strength that Anyang Longteng Group can produce, is grade 12.9. The bolts provide steel structures and machineries high property to bend, strength, pre-stress, post-tension. So that the studs are widely applicated in wind turbine foundation, wind turbine blade,  shipbuilding, bridge, big machineries. roof supporting, etc.
Components: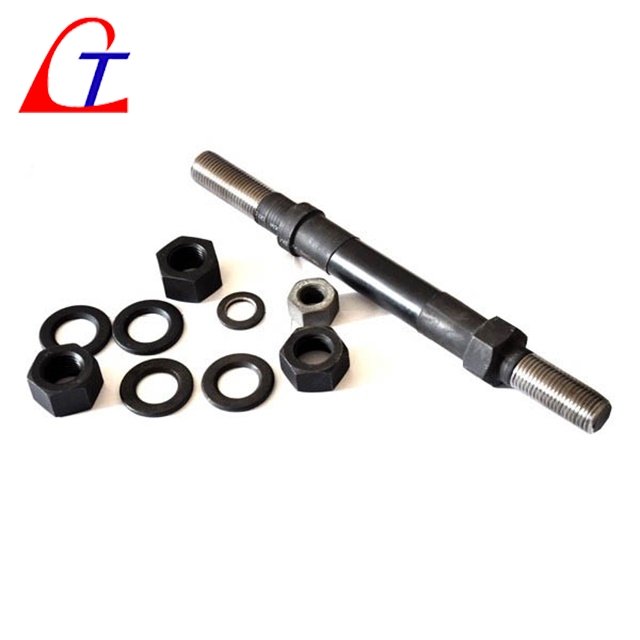 Carbon Steel 12.9 Nuts
Carbon Steel 12.9 Wing Nut
Carbon Steel 12.9 Nylon Lock Nut
Carbon Steel 12.9 Coupling Nuts
ASTM F568 12.9 Dome Nut
High Tensile 12.9 Eye Nuts
Carbon Steel 12.9 Machine Nuts
Carbon Steel ASTM F568 12.9 Cap Nuts
Carbon Steel 12.9 Square Nuts
Carbon Steel Grade 12.9 T-Nuts, Tee Nuts
Carbon Steel 12.9 Knurled Nuts, Thumb Nuts
Carbon Steel 12.9 Weld Nuts
ASTM F568 Grade Class 12.9 Self-Clinching Nuts
Carbon Steel 12.9 Bolts
Carbon Steel 12.9 Bolts
Carbon Steel 12.9 Lag Bolts
High Tensile Steel 12.9 U Bolts
ASTM F568 Gr 12.9 Carriage Bolts
ASTM F568 Grade 12.9 Square Bolt
ASTM F568 12.9 Foundation Bolts
Carbon Steel 12.9 Structural Bolts
Carbon Steel 12.9 J Bolts
Carbon Steel 12.9 Anchor Bolts
Carbon Steel Gr.12.9 Elevator Bolts
Carbon Steel 12.9 Socket Head Bolts
Carbon Steel 12.9 Weld Nuts
Carbon Steel Gr.12.9 Countersunk Bolts
Carbon Steel 12.9 Stud Bolts
ASTM F568 Grade 12.9 Stud Bolt
Carbon Steel 12.9 Full Threaded Stud Bolts
Carbon Steel Grade 12.9 Double Ended Studs
Carbon Steel 12.9 Tap End Stud Bolt
Carbon Steel 12.9 Single End Stud Bolts
Carbon Steel 12.9 Partial Thread Stud Bolt
High Tensile Steel Grade 12.9 Continuous Threaded Stud Bolt
Carbon Steel 12.9 Heavy Stud Bolts
Carbon Steel 12.9 Reduced Shank Stud Bolt
ASTM F568 Grade 12.9 Studbolts
Carbon Steel 12.9 Threaded Stud bolt
Carbon Steel 12.9 Screw
ASTM F568 Grade 12.9 Screw
Carbon Steel 12.9 Socket Head Screws
Carbon Steel 12.9 Round Head Screws
Gr 12.9 Carbon Steel Tapping Screws
Carbon Steel 12.9 Flat Washers
Grade 12.9 Thumb and Wing Screws
ASTM F568 Grade 12.9 Self Drilling Screw
Carbon Steel 12.9 Socket Set Screw
Carbon Steel 12.9 Eye Screw
Carbon Steel 12.9 Machine Screws
Carbon Steel 12.9 Button Head Screws
Carbon Steel 12.9 Drywall Screws
High Tensile 12.9 Slotted Head Set Screws
Carbon Steel 12.9 Washers
Carbon Steel 12.9 Washers
Carbon Steel 12.9 Plain Washers
Carbon Steel 12.9 Split Washer
Carbon Steel 12.9 Spring Lock Washers
Carbon Steel 12.9 Flat Washers
Carbon Steel 12.9 Belleville Washers
Carbon Steel 12.9 Tab Washers
Carbon Steel 12.9 Ogee Washers
Carbon Steel 12.9 Dock Washers
Carbon Steel 12.9 Star Washer
Carbon Steel 12.9 Beveled Washers
Carbon Steel 12.9 Hex Washer
ASTM F568 Grade 12.9 Tooth Lock Washers
Carbon Steel 12.9 Hex Nuts
Carbon Steel 12.9 Hex Nuts
Carbon Steel 12.9 Lock Hex Nut
Carbon Steel 12.9 Finished Heavy Hex Nut
Carbon Steel 12.9 Hexagon Nuts
Carbon Steel 12.9 Hex Head Nut
Carbon Steel 12.9 Hex Cap Nuts
Carbon Steel 12.9 Hexagonal Nuts
Carbon Steel 12.9 Hex Slotted Nuts
Carbon Steel 12.9 Hex Jam Nut
Carbon Steel 12.9 High Hex Nuts
Carbon Steel 12.9 Hex Machine Nuts
Carbon Steel 12.9 Hex Panel Nuts
Carbon Steel High Tensile 12.9 Hex Coupling Nuts
Carbon Steel 12.9 Hex Bolts
ASTM F568 Grade 12.9 Hex Bolt
Carbon Steel Grade 12.9 Heavy Hex Bolts
Carbon Steel 12.9 Finished Hex Bolts
High Tensile Steel 12.9 Hexagon Bolt
Carbon Steel 12.9 Hex Tap Bolts
Carbon Steel 12.9 Hexagonal Head Bolt
High Tensile Gr. 12.9 Hexagon Screw Head Bolt
Carbon Steel 12.9 Hex Machine Bolts
Carbon Steel 12.9 Hex Flange Bolt
Carbon Steel 12.9 Threaded Hex Bolts
Carbon Steel 12.9 Hex Socket Bolts
CS Grade 12.9 Metric Hex Bolt
Grade 12.9 High Tensile Hex Bolt
Carbon Steel 12.9 Threaded Rod
ASTM F568 Grade 12.9 Threaded Rod
Carbon Steel 12.9 All Threaded Rod
Carbon Steel 12.9 Tie Bar
High Tensile Carbon Steel 12.9 Studs
Carbon Steel 12.9 Double End Rods
Carbon Steel 12.9 Trapezoidal Threaded Rod
Carbon Steel 12.9 Tie Rods
Carbon Steel 12.9 Threaded Studs
Carbon Steel 12.9 Industrial Studs
Carbon Steel 12.9 Self-Clinching Studs
Carbon Steel 12.9 Heavy Studs
Carbon Steel 12.9 Fully Threaded Studs
---
Previous:
Stud Bolt, grade 10.9
---