Wind turbine foundation anchor bolt system is a star product of Anyang Longteng Heat Treatment Material Co.,Ltd. As we all know foundations are an essential element of a wind energy project. Foundation's duty is to help tower straight and working in windy climate. So our system need to bear high stress, which means the tensile strength of the steel structure should be supper high. The bar of the system, is one of the most important part to bear stress.
Since recent years, wind turbines are getting larger and more powerful. Accordingly, these high capacity turbines apply larger loads to their foundations, the structures that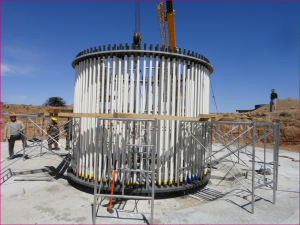 transfer weight from the turbine to the earth. 
Our factory, Anyang Longteng Heat Treatment Material Co.,Ltd, have the ability to produce bars with property class 8.8 9.8 10.9 and even 12.9 which is super difficult for most bolt factories.  What's more, our products' performances are even higher than those international standards.
To ensure the high performance of bars, our team put emphases on the raw material. All billets should be sourcing from the first-level steel factory in China, some are state-owned and military supporting. What's more important is, we require our own technical
requirements from them. Varies from chemical compositions to the surface condition, all requirements are better than national or international standards.
Contact us for more information about raw material factories.
When billets arrived in our warehouse, before production, an restrict inspection should be performed. Click here to see technical requirements in LT Group procurement contract.
---
Post time: Aug-29-2019