Sawing Cut                                                                                                                                                       
Cut top and tail into the length as clients ordered, at the same time, we guarantee to control the length tolerance within 2 mm.
For traceability, after sawing cut, on each bar's top end, within 50mm to top, should mark the last 6 production numbers by laser marking machine for traceability.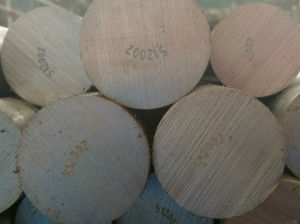 Rounding Chamfer                                                                                                                                       
The top end of rod should be turned into cone angle and the tail end needs rounding chamfer, which is convenient for installation on site, and threat productive requirement.
          Cone Angle                                         Chamfering          
Above article is the 6th and 7th steps for producing hold down bolts, rock anchor bolts, and wind turbine foundation anchor bolts. More information, please refer to our blogs. or contact us directly.
Contact us now!
Anyang Longteng Heat Treatment Material Co.,Ltd
Add:  Industrial Park, Indu District, Anyang City, Henan Province, P.R.C.
TEL:  +86-372-2256782
Email: [email protected]
---
Post time: Dec-27-2019