On October 23, 2021, there was good news from the State Administration of Market Supervision: The company successfully passed the evaluation of the additional item of pressure piping component manufacturing, and obtained the special equipment production license of the People's Republic of China (pressure piping component manufacturing) issued by the State Administration of Market Supervision. Seamless steel pipes (A, B)).
This review is based on the requirements of relevant regulations and standards for special equipment manufacturing, from quality assurance system documents, document and record control, contract control, quality control system responsible person system, material and component control, operation process control, non-destructive testing control, physical and chemical inspection control , Inspection and test equipment control, non-conforming product control, quality improvement and service, personnel management, implementation of special equipment licensing system and other aspects have been comprehensively and carefully reviewed.
In this review, the production address, product specifications, and license level were added to the original product type approval scope. The product specifications have been expanded from the original ф(89-168)╳(6.0-14)mm to ф(57-168)╳(3.5-16)mm. The grades have added Q345A and Q345C on the original basis, and the license level has changed from the original Class B of the company was changed to Class A and Class B.
The passing of this additional item review signifies that our company's comprehensive strength in equipment, human resources, process technology, and quality assurance system management has reached a new level.
The successful addition of this special equipment production license will play a positive role in the expansion of the company's business, the development of new fields, and the improvement of influence. Our company will take this as a new starting point, in line with the business philosophy of "not forgetting the original intention of starting a business, keeping in mind the mission of the industry", adhering to the spirit of craftsmen from a great country, and wholeheartedly providing high-quality products and services to the market and customers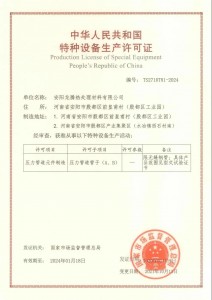 ---
Post time: Oct-27-2021