Dimension and tolerance inspection shall be in accordance with GB/T6170-2000 "Hexagon regulat nuts(style 1)". See Table 3 thickness m is symboled and described.
Table 3 Thickness of nuts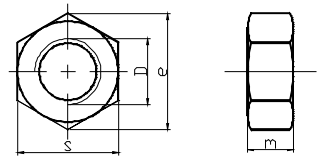 Specification of nuts
M30
M36
M42
M48
M56
M64
 P
3.5
4
4.5
5
5.5
6
Q/AYLT 06-2016
THmm

max
31.5
38.5
42.0
47.0
56.0
63.0
min
30.0
37.0
38.0
45.5
54.0
61.0
Our manufacture have the most advanced facility of heat treatment, with experienced experts and service teams. Main products are Wind turbine foundation cage, anchor bolts, studs, nuts, washers, rock bolts, heat treating round bars, heat treated stirrup, seamless tubes.
Anyang Longteng Heat Treatment Material Co.,Ltd
Add:  Industrial Park, Indu District, Anyang City, Henan Province, P.R.C.
TEL:  +86-372-2256782
Email: [email protected]
---
Post time: Aug-24-2018